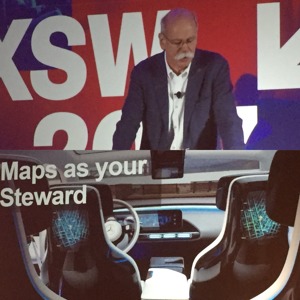 While Media Evolution was visiting SXSWin Austin, Texas – they took the oppertunity to listen to some great talks about smart mobility and transportation.
At this years SXSW there was a lot of focus on automatisation of cars, how the AI in the cars will work in the future and the very elllaborate maps that will be cruzial for the cars to be able to detect everything that needs to be calculated while driving a car without any human eyes.
As the automatisation of the car while change the way we live, there is also a different economy that can be emerging. You can be part of a car pool and share your ride whit others. People who do not been mobile before due to illness or just not haveing a drivers license can enjoy an more mobile life. The Head of Mercedes-Benz Cars Division Dr. Dieter Zetsche and CEO of HERE Edzard Overbeek had a interesting conversation about how the bigger car manufacurers need to take all this account while working on their future strategies.