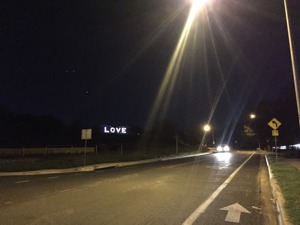 150 people move to Austin everyday, so there is no wonder that the city has huge challanges to get the mobility in the city working smoothly.
By taking part in the us governments Department of Transportation in 2016 Smart City Challenge – they wanted to look in to how to make the public transportation throughout the city better and how to connect the East-parts to the West as the interstate as divided the city.
Since many years there is a strong bike lobby in the city and pedicabs are a common site downtown. This has led to better bike lanes and also the right for bikes to go in the full (car) lanes where/when necessary.
In the start-up facilities Capital Factory you can find quite a few companies that works with mobility solutions at the Mobility X – transport tech facility, there you can find interesting companies like Texas Guadaloop that's making a zero gravity hyper loop 750 mph with air levitation instead of magnetics. NuPark.com that makes a mobile license plate recognition camera, OtterLogic where you can schedule and track your shipping B2B without a middle man and Riskpulse an Predictive analytics for transportation tool to name a few.
Let's hope that we can make Mobility X a partner for our project!