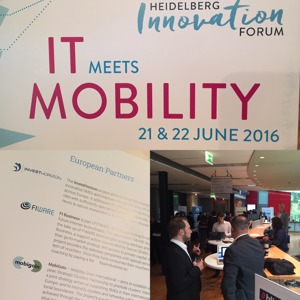 In beautiful surroundings in the hills of Heidelberg, the Innovation Forum took place this year at Villa Bosch, "IT meets Mobility" was the theme.
20 start-ups where picked out from the applicants and got the opportunity to enhance their business ideas with coaching and also a pitch in-front of investors over two days, 21-22 June.
MobiGoIn partner bwcon organised the event for the 15th time in a row, and the partners of the project were present, given that MobiGoIn was one of the EU partners of the event.
The days included talks to help the startups get inspiration for easier access to investments and customers.
Prof. Carlo Alberto Carnevale Maffè gave great insights in the future of work and innovation, on the importance of collaboration, access and services instead of ownership and how digital strategy is the continuation of politics. "Mobility is the proxy for productivity" he said.