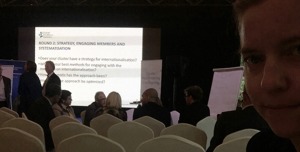 Sara Ponnert from Media Evolution visited the cluster to cluster networking conference in Warsaw (19-20 september) where the theme was strategic internationalisation for clusters.
Much of the findings in our study of smart mobilisation companies is being strengthend, that helping companies to find networks in new markets, and to be there to help with active matchmaking wich can feel as a simple thing, but could be dealbreaking for the companies.
For the cluster themselves its important to have the internationalisation being a part of the whole cluster per say, not just as an appendix, as this never gives great results.
To goal to participate in these type of events is to find partners for the MobiGoin partnership consortsium and for other coming projects for Media Evolution.